Classic Single Action is owned and operated by Joe Perkins in Tucson, Arizona. Business hours are from 8am to 4pm, Monday through Friday, MST. Classic Single Action offers custom grips, gunsmith work and new firearms for the single action enthusiast. Classic Single Action works on Colt Single Action Army, U.S. Firearms, Standard Manufacturing, Uberti, Pietta & all other Single Action revolvers. If you want perfection, appreciate fine craftsmanship and expect the highest quality, you will find it here. Classic Single Action has been making grips for Collectors, Lawmen, US Military, Special Forces, Movies, Cowboys, Cowboy Action Shooters, Mounted Shooters and Fast Draw competitors since 1987. Joe is well known for his one-of-a-kind silverwork designs. As a classically trained silversmith, all of the silverwork is created by him, in his studio. Each piece is made at the time the grips are made, not before. Check out the "Hollywood Grips" page and the "Silverwork" pages to see some of his beautiful and unique creations.
If you are looking for quality gunsmith work, you will be well taken care of here. Joe's Premium Action Work is second to none. A twenty-six-point service. All timing issues are fixed. Internal friction surfaces are honed and polished. Specific angles of the trigger, hammer, bolt and hand are altered to create low friction and reliability. Trigger and hammer sear angles are set for a crisp trigger release. New custom manufactured springs are installed and the firearm is test fired. It's all here, Premium Action Work for your single action revolver, TIG welding broken triggers and hammer notches on your 1st generation Colt and flawless jaw dropping grips.
No plastics, resin molded grips, micarta or fake ivory here. Grips are made from over forty-five hardwoods, rare burls, giraffe bone and pre-ban elephant ivory. The hardwoods and burls are carefully selected for their grain, color and unique figure. After the woods have been milled and dimensioned, they have cured for a minimum of one year. This insures the grips won't crack, shrink or warp. All Burls and spalted woods are stabilized for hardness and durability. This also makes the figure richer. Most grip makers don't do this because it's expensive and time consuming to do. Many burls are soft like balsa wood if they are not stabilized.
July 6th 2016 there was an interstate ivory ban put in place. Premium pre-ban elephant ivory is available to Arizona residents only. An "Affidavit of Origin" certificate is included with each set of grips. Ivory Photos.
Grips can be made with any profile and finish. If you want a thicker grip, a thinner one, a bevel on the bottom, a display finish or the factory profile, you have come to the right place. Just ask and it is yours. See the Grip Profile page for the more common options. The "Competition" grip is the most popular profile made by Classic Single Action. It was originally designed for Cowboy Action Shooting, but quickly became the grip of choice for most shooting styles. Joe was first to introduce a thinner grip back in 1988 and it is now the most copied profile by two major manufacturers and numerous other grip makers. However, it's not just about making them thinner. It's about the contour and the finish. Joe's grips are specially shaped to fit your hand better than any other grips on the market. The grips also have a unique finish that makes them stay put in your hand. They will resist rolling/slipping under recoil. Checkering is not needed. The finish "breathes" so the grip will not become slippery in your hand with moisture. It actually stays in place better. Over six months of testing went into creating this finish. Check out the "Customer Comments" page.
Grips made by Classic Single Action look and feel as if they are part your grip-frame. Every pair is carefully made to the exact outline of your grip-frame. Think of a suit made by a tailor. Two people that are a 44 long do not have the exact same shoulder width or arm length. A tailor measures every dimension and makes the suit fit like it grew on you. This is how Classic Single Action makes grips. Every grip-frame is different, even consecutive serial numbered guns. Classic Single Action does not ship grips to customers. You send your entire firearm in if you want grips made.
There are a lot of grip makers out there claiming to be "custom" grip makers. Many of them make grips from a single pattern on a machine and ship the grips to you. This isn't "custom". One size does not fit all. If you ship them your gun and ask them to "custom fit" the grips, the grips are still made from a general pattern and not to the exact dimensions of your grip-frame. When you buy pre-made grips through the mail, they won't fit perfectly, period. Some "grip makers" charge $50.00 to $75.00 to re-blue your grip-frame because they grind the grips and the grip-frame down together! Do you want someone grinding the grip-frame down on your new Colt?
Grips are not mass produced off a master pattern or ground to your grip-frame. A unique pattern is created from your gun and then the grips are made from this unique, serial numbered pattern. The grips are then hand fit to the exact contour of your grip-frame. There is no finer or more precise way to make grips. There are no CNC or Duplicator machines in the shop, no Dremel tools either. Like the finest hand tailored suits, grips are made by hand with precision, patience and a complete understanding of quality. Your grips will fit the grip-frame perfectly and both sides will match in tone and appearance. In most cases they will be book matched or reverse end grain matched. Joe's crafting of custom grips, silverwork and action work is some of the finest work you can put your hands on. If you want the best that money can buy, this is it.
For the Cowboy Action Shooter, the list of National, State Champions and top five shooters that come to Joe for gunsmithing and grips is quite extensive. Here are a few you might know; Tex, Cat Ballou, JT Wild, Slick McClade, Lead Dispenser, Long Hunter, Pious Player, Gillyboy, Sassy Dancer, Windy City Red, Ole Saddle Bags, Sweetwater, Hell on Wheels, Brasada Spurs, Granny Oakley, Rattlesnake Rick and Dapper Dave.

Those of you looking for quality gunsmith work, take a look at the Gunsmithing page to see a short list of what is offered. Action work can be tailored for Cowboy Action Shooting, Fast Draw, Target Shooting or Historically Correct. From purchasing that new Colt Single Action Army, to providing your gunsmith needs, to creating exquisite grips, you have found the place that will do it right. Consider the time and money you will save by having it all done in one place.
Australian Mother of Pearl, AAA Natural Rubies and Emeralds in 14k settings inlaid in Ebony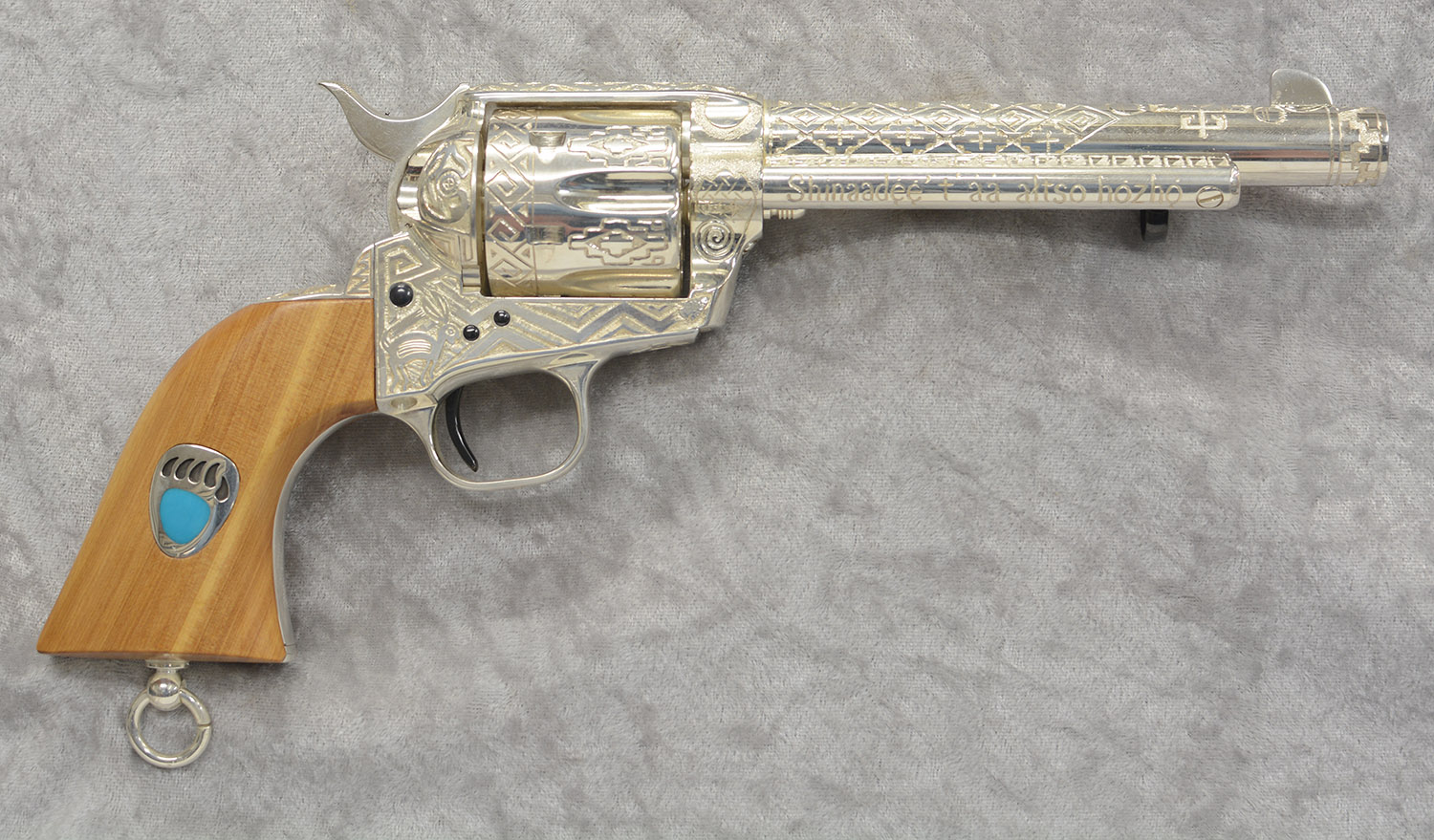 Silver and Turquoise Bear Paw in Juniper
Giraffe Bone on Colt SAA
Sterling Silver in American Holly. 1969 Shelby Cobra Mustang GT 500. Modified original one-off design.
French walnut for one of Wiley Clapp's custom revolvers.