New Firearms
Taxes apply to Arizona residence. Firearms must be shipped to an FFL in your state. Firearms will not ship to an FFL until a signed copy of the FFL I am shipping to has been received. Your state laws apply to new firearms purchases. Arizona customers will fill out a 4473 and have a background check.
Premium Action Work is only $175.00 when buying a new firearm from Classic Single Action. You save $20.00
All firearms are "New in the Box".
Photos are for example only.
Colt's Single Action Army
I receive revolvers directly from Colt. They are what is currently in production and are made within the last month when I buy them.
* All new Colt revolvers purchased will ship to your FFL for FREE.*
*Consecutive numbers are $25 more each.*
Single Action ArmyP1850– 5.5″, 45LC, blue and case hardened. Only ~ $2100.00
It will probably be sometime next year before we see more of these.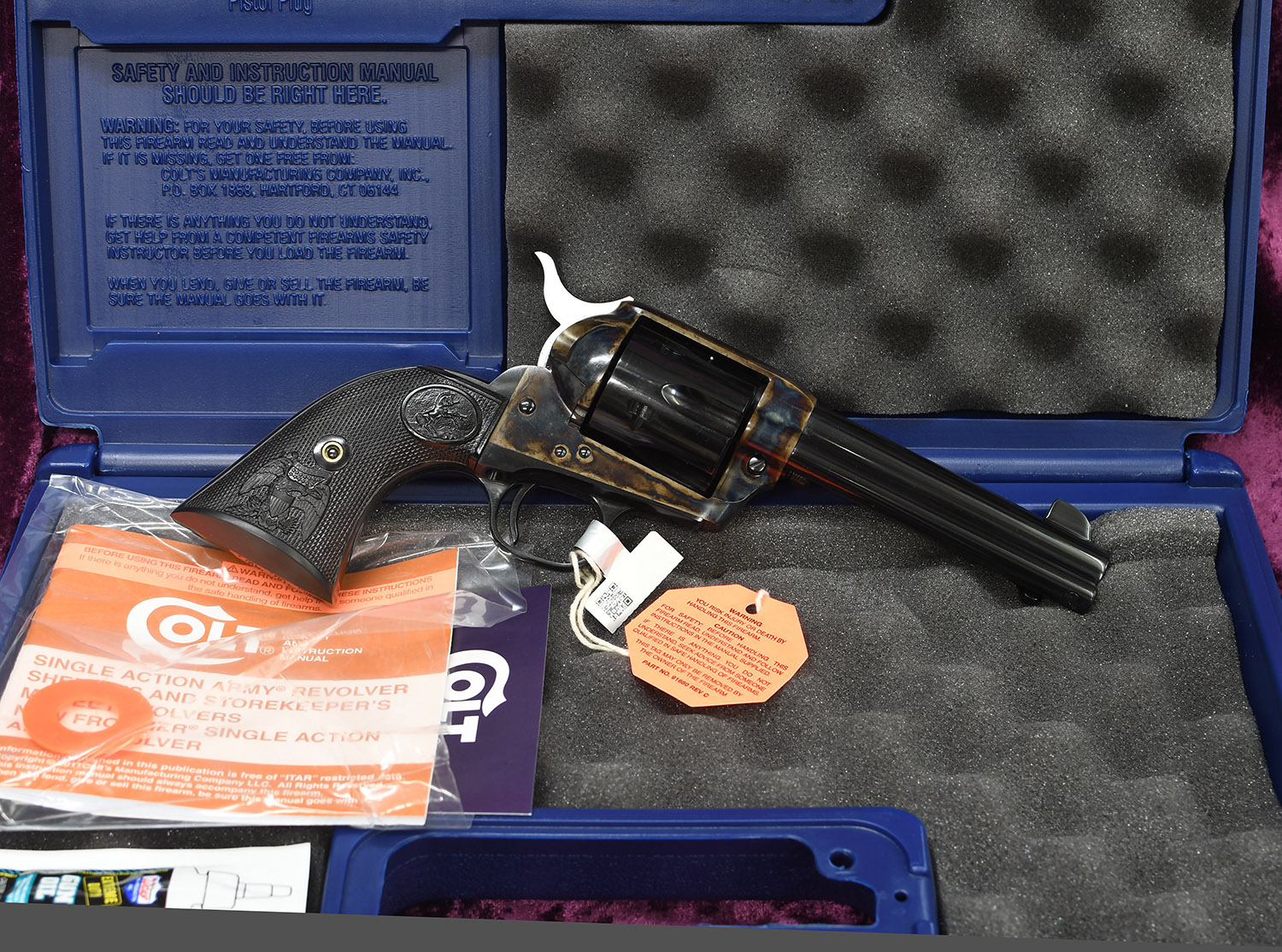 Single Action ArmyP1840– 4.75″, 45LC, blue and case hardened. Only ~ $2100.00
The 10 revolvers I received on 7/29/22 are sold.
I should have more of these by October. This is the revolver Colt is currently making.
Updated 8/15/22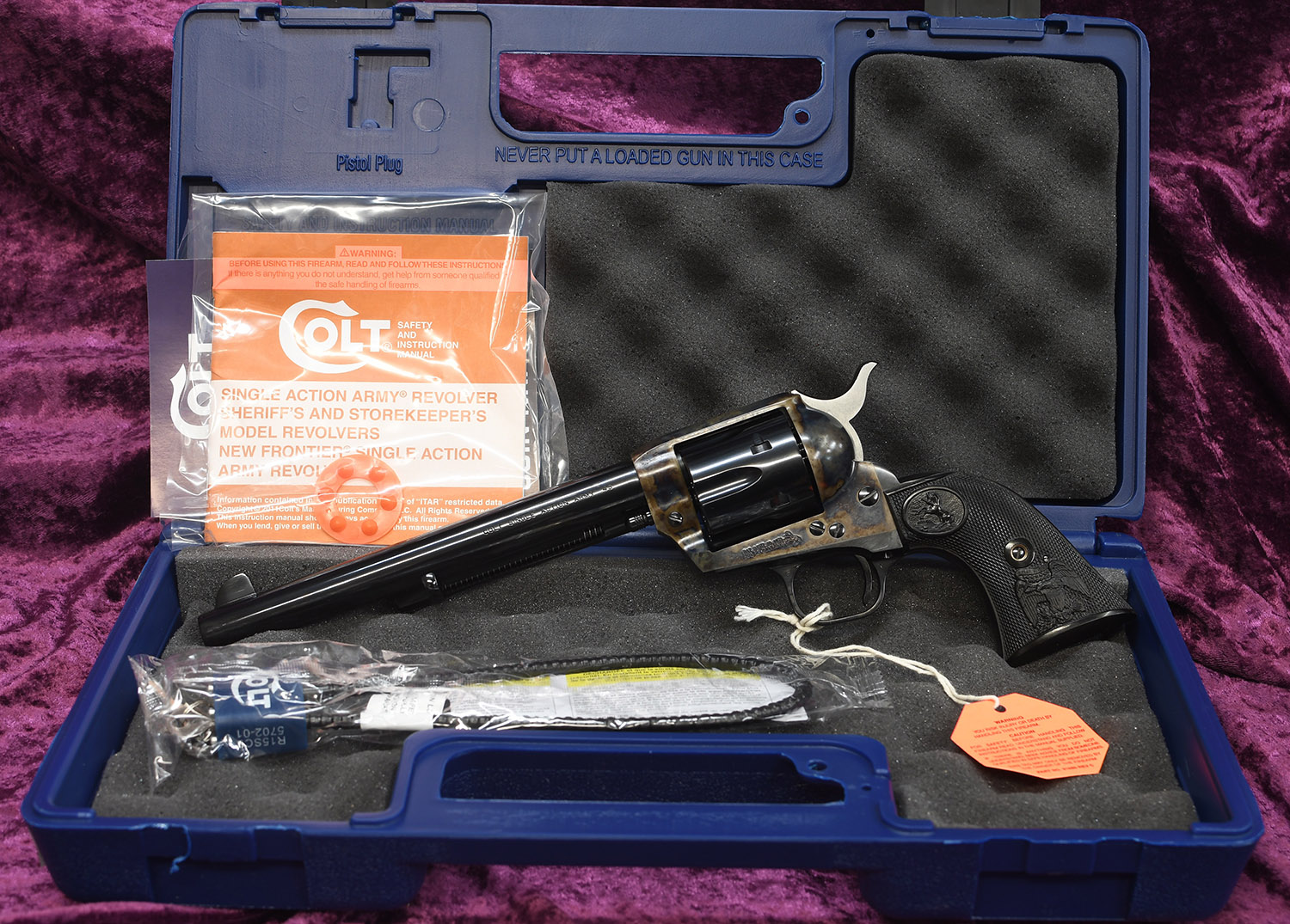 Single Action ArmyP1870– 45LC, 7.5″, blue and case hardened. Only ~ $2100.00
Bought 26 of these 12/8/21. Sold the last one 3/6/22
We won't see these again for quite awhile.
** All new Colt revolvers will be shipped in a sealed, tamper proof sleeve with a note to
the receiving FFL.
New Colt SAA in tamper proof sleeve with note to FFL.
Cimarron – Pietta
Cimarron Frontier. Colt SAA replica. Late Colt style firing pin and authentic four click action.
Beveled cylinder. Wide front and rear sights. Very well fit, quality internal parts.
.357, 5.5″ In Stock Now. Only ~ $505.00
With Premium Action Work Only ~ $680.00 See notes for this gun on my "Opinion" page.
All Pietta made revolvers have the authentic Colt four click action.
The Frontier is a quality revolver at a good price.
Cimarron – Uberti
Cimarron Model P. Wide rear sight and squared front. Only ~ $530.00
With Premium Action Work. Only ~ $705.00
This has the original 4-click action. NO retractable firing pin.
In Stock
45LC, 5.5
NIB S&W 642 Centennial Airweight .38spl. +P. Model 163810 Only ~ $475.00
Just received five of these from Ruger. Ruger SP101 .357 Mag. Model 15702. Only ~ $575.00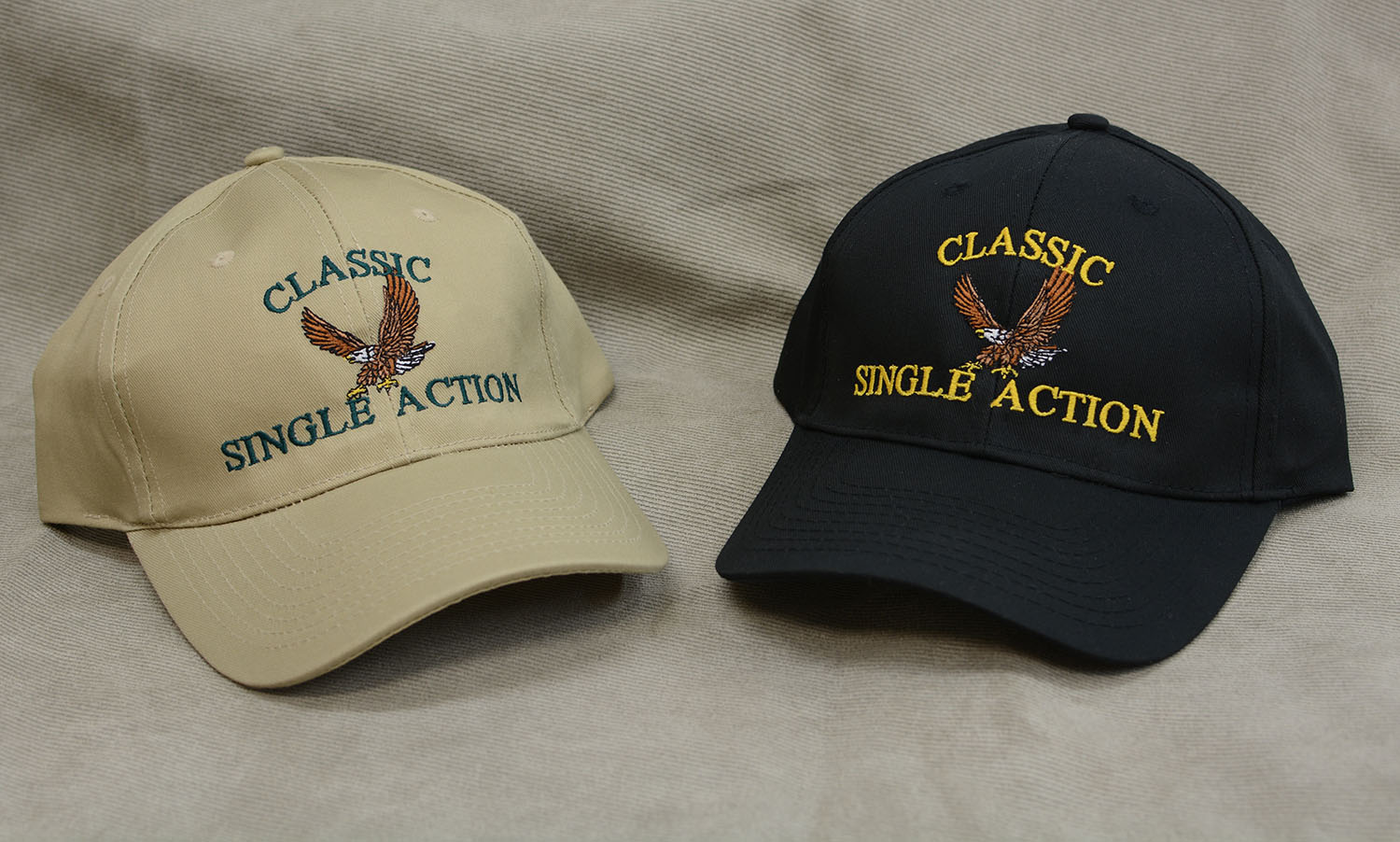 Classic Single Action Hat . Khaki or Black, Adjustable Band ~ $15.00
Not available at this time.
Nothing makes a job easier than having the right tools. Using the right screwdrivers for the maintenance of your firearms should be a priority. They will keep your screws tight without binging up the slots. Do not use regular screwdrivers on your guns! There are a lot of choices out there, but here are two I think are very good.
Set #1
. For USFA, Colt and Ruger
®
revolvers: Brownells sells a Magna-Tip set specifically for each gun model. Pros & Cons; I like these for space saving issues and ease of transport. They are hollow ground and well made. Some people find the magnetic tips a bother as they pick up unwanted material and the tips have a touch of play between the shaft and the bit. Still a great driver set for all Single Action revolvers $35.
Set #2.
For USFA, Colt SAA and Reproductions: Brownells sells a set made by Grace. This is a three driver set with wood handles. Pros & Cons; The tips are milled for the screw slots and fit most 1873 SAA screws perfectly. They are shorter than standard drivers for better control. The width of the tips are a touch wide and can scar the surrounding areas. Grind and polish the sides down to eliminate this.
If you buy the set from me I will do this for you. $40
Set #1 Set #2

Authentic Colt U.S. Army Issue Screwdriver Reproduction
This is a faithful reproduction of the screwdriver that was issued to the US Army with their Colt SAA in the 1800's. It is crafted entirely by hand from tool steel. The driver is hardened and heat blued with hollow ground tips. This would be a great tool to have for the SASS shooter or historic reenactor as it fits in the smallest of pockets and is easy to use. You can find a picture of one of these original screwdrivers on page 108 of R.L. Wilson's book "The Peacemakers". Only $50, firearm not included.