ABOUT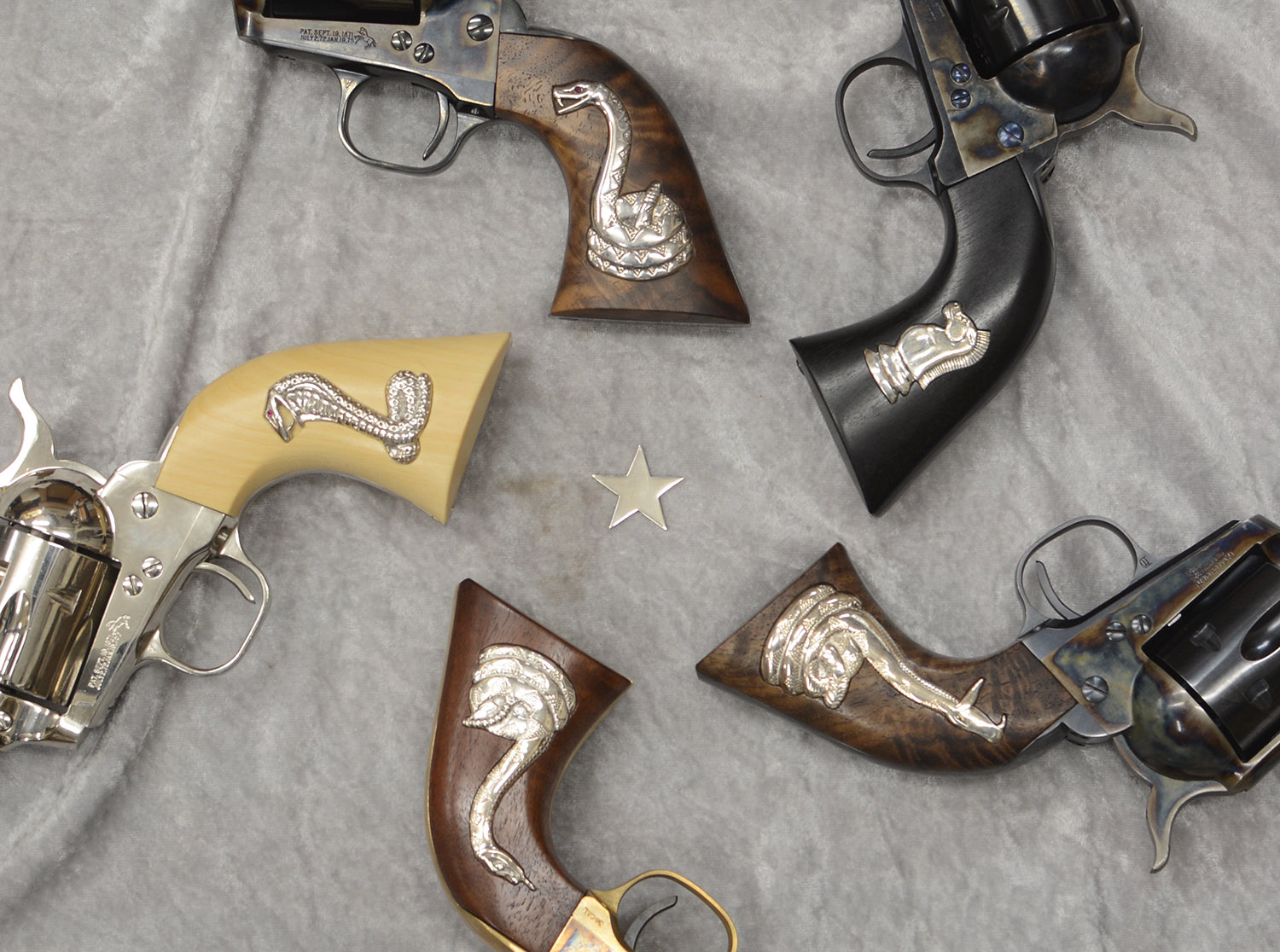 Classic Single Action is a highly personalized company that operates with the philosophies of the "Old West". Honesty, integrity, commitment to excellence, and ownership of the product quality. Quality speaks for itself and that is what has made Classic Single Action recognized as one of the finest grip makers and gunsmiths in the country.
This is not a hobby or something Joe does part time. It is what he does for a living. He works from 7am to 4pm five to six days a week. He services 350 to 400 guns a year. Turnaround times vary. Some custom gold and silver designs can take two extra months to complete. Please don't ask if it can get done any sooner. No jobs are rushed. Joe focuses on quality not quantity. He believes quality should not be just lip service. It should be what you get from a product you spend hard earned money on. Quality is what he delivers.
CNC and copy machines are not used to cut blanks or shape grips. Every grip frame is unique. Sometimes both sides of a grip frame are different. CNC machines can't match the fine precision of hand craftsmanship. There are many grip makers out there making grips that fit "pretty good". From grips to action work, Joe's customers know that Classic Single Action is not about "pretty good". You will not find finer grips made anywhere and his gunsmith work is second to none.
You will not find damaged screws or scratches on your gun when it is returned. All surfaces in the shop are padded and the utmost care is taken when working on your prized possessions. Your gun will be photographed in detail the moment it is received. If there are any marks or blemishes to the finish or screws, you will receive a phone call and the photos will be e-mailed to you the same day. This is done because everyone looks at their gun closer after having custom work done. You might now notice a small blemish you didn't before.
Classic Single Action does not bend or grind your factory springs when performing action work. Bending and grinding springs ruins the molecular structure and will cause premature failure, not to mention inconsistent spring rate. New, quality manufactured springs are installed as well as careful machining, honing and polishing of the internal parts. Some springs are custom made by Classic Single Action.
Classic Single Action is very well known for making one-of-kind gold and silver designs for grip embellishment. In keeping with the philosophy of the highest quality and craftsmanship, all of the gold and silver designs are made by Joe. Designs are hand cut from sheet silver or cast using the lost wax process. See the Silverwork pages for more information.
"Whether you are a collector, occasional shooter or competitive shooter, from buying new guns to quality gunsmith work to exquisite custom grips, your guns will shoot, look and feel better than they ever have before. You have my promise on that". – Joe Perkins
Don't forget to take a look at the links page for some truly outstanding services and people.
Classic Single Action does not ship grips to customers. In order to provide you with the highest level of custom work, you will need to send in your revolver.